Tip Provided By: Golftec of Maryland
PERFORMANCE SECRET
Adjusting for Green Speeds
Andrew Braley, GolfTEC Certified Personal Coach, PGA Member, Franchise Owner
Over the years, many players and teachers have had several different ways to adjust for differing green speeds. As conditions have become more consistent from course to course for the PGA Tour players, Augusta always seems to be an anomaly. I have heard stories of Tour players practicing on Linoleum floors or the garage floor to prepare for the speed. For the majority of us, we do not get to play the same conditioned courses on a daily basis. As the superintendents have been able to mow the greens at lower heights due to advances in grasses and agronomy, we are getting closer to tour speeds at many courses.
As green speeds increase, the margin for error decreases. Through testing, we have discovered that a one degree change (+/-) in effective loft produces an 8–inch difference in roll out on an 8–foot putt with a green stimpmeter reading of 10.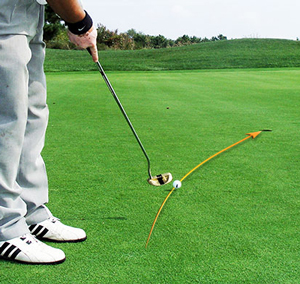 More firm grip pressure, a more forward ball position, and an accelerating stroke are key to putting slower greens.
That makes consistent loft of the putter at impact a huge factor in adjusting for green speeds. If you are playing slower greens, some extra loft may help by getting the ball up on top of the grass and rolling, where on a faster green, it may cause the ball to bounce and skid as it leaves the putter face. If someone is timid (which you would expect on very fast greens), the hands will start to slow as you come to impact, and the putter head will continue with momentum causing an increase in loft at impact, resulting in inconsistent distance control.
Having a consistent and repeatable stroke with good tempo is essential to being able to adjust to differing greens speeds. If the stroke is shortened and there is good tempo, it should result in a shorter putt. Grip pressure can also influence the "strength" of a putt. If the putter is gripped loosely, the stroke will result in less energy transfer to the ball. The opposite is true for gripping it tightly. Soft hands are an easy adjustment to faster greens, or even a downhill putt.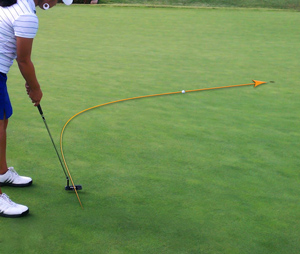 Lighter grip pressure, a more centered ball position, and a consistent stroke are central to putting faster greens.
If you are playing a course you know has faster greens, or a course that you don't know well, extra time is a must on the putting green. Start by hitting four to five 3–foot putts to get a feel for the speed. Then, putt from one edge of the green to the other. Start at the fringe and try to stop the ball short of the opposite fringe. Go from side to side and then uphill and downhill. Pay close attention to how the ball rolls out and "feel" the length of the stroke. Move to breaking putts and notice that on faster greens, the ball breaks more during its roll out versus slower greens. The slower the ball is moving, the more it is affected by the side slope.