Course: Algonkian Golf Course
Location: Sterling, VA
Driving Range: Yes, large buckets $8.50, not included with round
Tee info: Gold: 5584yds (71.5/115); White: 6592yds (71.2/121); Blue: 6909 (72.7/125)
Price: M-T: $32.50; F/S/S/H: $45.50; carts: $15/rider
Date played: 6/15
Weather: Sunny, low 80s
Score: 89
Written By: Colin Murray
Overview: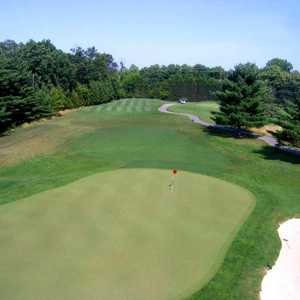 Algonkian Golf Course is the sister course to Brambleton, and is also managed and maintained by the Northern Virginia Regional Park Authority. Similar to Brambleton, this course has undergone management changes in recent years, and the course quality has improved greatly because of it. The greens and fairways are in excellent condition; very few ball marks were unrepaired on both fairway and green, and there was absolutely no brown/dead grass in the fairway, as there had been plenty of the last time I played the course about two years ago. Unlike its sister course, Algonkian's rough was not as thick, but instead was covered mostly with clovers. This does not aid in finding your ball if hit there, since the clovers do a decent job of hiding the ball, but once found it is not difficult to get a clean shot from since the clovers are not very thick. The course is lined with trees, but it is open underneath, so the player will either have a full shot over the trees or hit a punch-shot to get back into the fairway. There are several strategically placed bunkers and trees that will affect your approach on certain holes, so visiting the course's website – where a course/yardage book complete with detailed info on each hole is available – is recommended prior to your round. The carts here are mostly electric, only a few random gas carts are left. GPS is not present, but as mentioned, there is a course/yardage book available on the website that is very handy. This course uses the color-coding system for its flags, so you will know where the pin is for each hole. The only water on this course is a little stream that runs thru a few holes on the back, and there are few holes where OB trees/boundaries are in play.
Amenities:
The driving range is nothing to write home about, except to say that they have one. It runs out at about 275yds, and has approximately 15 boxes (all mats). The range balls are the worst I've ever seen (chewed, old, dirty, etc), and I would not judge your performance there for how you will play on-course because of that. The pro-shop however, is very nice for a "municipal" course. Besides the basics of gloves, tees, and balls, they have a decent selection of hats, shoes, shirts, and even cigars for those aficionados. The grill shares the space with the pro-shop, and has the standard fare for reasonable prices (hot dogs go for $3.50).
Front-9:
The first hole is a good warm-up: short par-4 with little trouble except a pond far left (only in play for those that hook badly off the tee) and a few trees on the right. There is a slight dog-leg left about 125yds to the green; long hitters could use driver here and clear the turn, or hit a 3W and leave yourself with a short iron in. Hole 2 is a relatively short par-5 (506 Blue/478 White), so long hitters can easily get home in two, and even average hitters can have a chance with two solid-struck shots. Trees line the right rough, but the left rough is wide open. Hole 3 is the #1 handicap because it is a long & very narrow par-4. Trees line both sides of the fairway, so a missed fairway here will likely result in a punch-out, then requiring a good up-and-down to save par. Holes 6 & 7 are sharp dog-legs left & right (respectively), with the former requiring an iron or 3W off the tee due to a tall tree at the curve, preventing short-cuts. Going straight from the tee, the fairway runs out about 225/247 (White/Blue). Because driver is not an option from the tee, even long hitters are not likely to get home in two here (unless you can hit your 3W 280yds). There is a bunker directly in front of the green that will catch shots that fall short, so make sure you take enough club to clear it on your approach.
Back-9:
Hole 11 introduces the only real water on the course, a small creek that runs thru a few of the back-9. Long hitters should hit either a hybrid/long iron or a 3W, as the downhill fairway runs out to the creek at about 235/260 (white/blue). The second shot is uphill, and must clear the bunker on the front-left side of the green. On hole 13, long hitters will have an advantage, since the same creek from 11 runs back thru this one also, but well beyond all tee-shot landing zones at 300yds from the Whites. Short hitters will likely need to lay-up before the creek since the fairway does not come back until 115yds to the green. Hole 15 is similar to both 11 & 13, in that the now familiar creek finds its way here also, this time only 100yds from the green. Driver is okay here, as the fairway runs out at 279/297 (White/Blue), and only 130yds from the green. Keep your drive straight tho, since trees and very thick/unplayable rough line both sides of the fairway. Short hitters should lay up and give themselves an easy short-iron 3rd shot, as the green is elevated and sits above the creek. Par is a good score here. The finishing hole is a long, sharp dog-leg right, par-5 (492/510 White/Blue). Trees along the right side guard against any short-cuts, so keep your tee shot left fairway and you'll give yourself a clear approach to the green that continues to bend right. Long hitters will have trouble getting home in two, as a large bunker protects the right side of the green. Keep your second shot to the left and your third shot will give you a very short and easy wedge for GIR and will take the bunker out of play.
Wrap-Up:
I enjoyed this course, and look forward to playing again. As always, keeping your ball in the fairway is crucial, but the trees here have branches that like to deflect or knock-down your punch shots (I had three of those instances myself), so hit the club that is the most straight, even if it means keeping the driver in the bag on some holes. Long hitters don't have much advantage overall, save for a few holes. Keep your shots straight, and you should be able to score well. The holes that employ strategy golf add to the fun of the round. The greens can be a challenge, as very few (if any) are flat and straight. The day I played (Friday), the pins were in difficult locations as many were on the cusp of a hill or a break.
Algonkian Golf Course
Condition
I was very impressed with the condition here, a total 180-degree turnaround from two years ago when I would not pay $60 to play here. Greens and fairways were very lush, and unrepaired ball marks were few and far in-between. For a municipal course, you may not find much better.
Price
Walkers or push/pull cart users get a nice price break, since power carts run $15/rider. Weekend/holiday rates include all day Friday, but at $60 (with cart) it is reasonable compared to many other local courses, and with the quality improvement, I am okay with the rate. Mon-Thurs rates are $47.50 with cart. Twilight (after 2pm) saves you $5 per round. If you can play a quick round, the "Super Twilight" rates that start 3hrs before sunset are very good ($13.50 M-T; $19.50 F-S/H).
Amenities
If the driving range was in better condition, it would get a 4 since the pro shop has a nice selection for a municipal course.
Overall
As mentioned a few times now, the quality improvement this course has shown these last couple of years is tremendous, and is worth spending the money on a round. I like that the yardage book is available on the website, giving you the intricate details of each hole. The rates are reasonable, and the course is fun to play.