Tip Provided by Golftec of Maryland
Dan Sniffin, GolfTEC Park Meadows.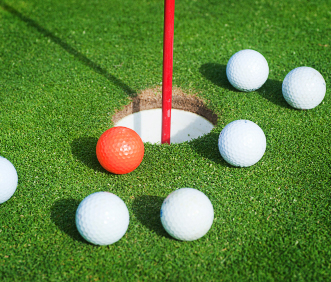 Success around the greens on the course requires a few key skills. Those skills are the ability to choose the best type of shot and the ability to execute the shot correctly. For many players, the only time they work on situational shots is during a round. When playing with amateurs, I often see them choose a low-percentage type of shot, and then watch as they execute it poorly. Better players already know their best shot before they hit the links, and so can you.
There are two practice habits I recommend to address this common problem:
1) "Hit Me With Your Best Shot"
What it does: This game will help you identify your short game strengths and simplify your decision making on the course while reducing the chance for posting a big score.
How to Play: Place your ball off the green in a position that allows for multiple approach options. An example would be a shot from off the green with fairway grass or fringe between you and the flag. You could elect to hit a high shot that lands by the flag and stops, a lower shot that lands on the green and runs, or even run the ball along the ground with a putter or hybrid.  Think about what your first choice would be on the course in that situation. Hit 10 balls each with at least 4 different clubs that you could use and score the results as follows:
Scoring:
3 points –Holed
2 points – Within a club-length of the hole
1 point – Within a flag-stick length from the hole
-2 points – missing the green
After tallying the results of each club, you will begin to see if your first choice on the course is indeed the best, or if you are costing yourself shots by choosing the wrong type of shot. In addition, this game also forces you to practice with a variety of clubs and helps you add some creativity to your short game.
2) "Rule 13"
What is does:  If you go to a short game area and watch the players practicing, you will likely observe a common habit: Everybody practices from the short grass on a level lie. Consider your own short game practice; what percentage of the time do you practice from short grass vs. the rough? Now think about your last round or two, think about the greens you missed and the kinds of shots you faced? How many short game shots were from the short grass? How many were from the rough? This can vary based on where you play, but most courses in the U.S. have greens surrounded primarily by rough.
How to Play: Take 10 golf balls and toss them in the air to an area within 10-20 yards of the green. Play each ball as it lies and try to get up and down. Be sure to putt everything out!
Scoring:
3 points –Hole your approach
2 points – Up and down in 2 strokes
1 point – Up and down in 3 strokes
-1 point – 4+ strokes
| | |
| --- | --- |
| 20+ points | You're at a touring pro level |
| 13- 20 points | You can compete for the club championship |
| 7-12 points | Good for a bogey golfer |
| <7 points | You're wasting too many strokes! |
Add a bit of fun to your next visit to the range, but make sure that it still points towards improved play!