Tip Provided By: Golftec of Maryland
5 tips to win more holes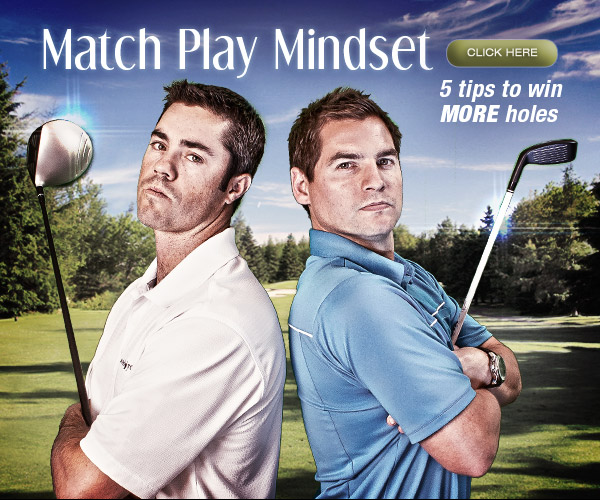 Patrick Nuber, GolfTEC Manager of Teaching Quality, PGA Certified Professional, 2011 Colorado PGA Teacher of the Year
This is the time of year when match play becomes the focus of the golf world. The greatest match play competition, the Ryder Cup, tees off in late September and the world will be watching. But, for most players, match play isn't a common format to play. At least, not officially. For those of you who like to spice up each round with a friendly wager, your focus will switch to winning holes rather than an 18-hole score. Even if wagering isn't part of your game, thinking about your round with a match-play mindset just might be the best way to improve your results.
Play to hit the fairway. Hitting the fairway sets you up for success from the start of each hole. You cannot win each hole by playing from the trees, out of fairway bunkers or simply when out of position. This means that you may have to give up yards at times by using a 3-wood or possibly even a hybrid. Be selective on the holes that allow you to do this. In other words, if you can hit a 3-wood 225-230 yards and you are playing a 350-yard par 4, by hitting a 3-wood you would only have 120-125 yards left into the hole, which is a short iron shot. If you hit a hybrid, for example, that went 210-215 yards, you would allow yourself to hit an 8 or 7-iron into the hole, which are still considered middle to short irons. Play smart, hit fairways and put pressure on your competitor!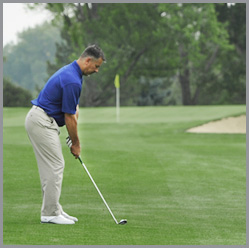 Hitting the fairway not only sets you up for success, it also puts added pressure on your competitor
Plan on 75-80%. Golf is a game of misses and it is unrealistic to expect to hit most of your approach shots "perfectly." I hear too many times during playing lessons that my students tend to select the club that would get them to the yardage they need IF they hit it 95-100% solid. With most amateurs this rarely happens throughout the round. Even the best players in the world only hit a handful of shots throughout the course of a round that came off just as planned. Pick a club that allows you to swing comfortably and carry the distance you need, but also allows for an off-center shot. This will lead to more greens in regulation!
Miss appropriately. As explained in the previous tip, golf is a game of misses. Ask one more question to yourself, "Why do you aim for the pin so much?" Most players have a miss tendency where they miss either right or left most of the time. To give yourself the best opportunity to win the hole, you need to take your miss tendency into account when selecting a target. Amateurs get in serious problems and add strokes to their score or lose a hole when they miss on the short side of the pin on an approach shot. Plan your misses to be on the larger or fatter side of the green. This will make up and downs easier to achieve!
Warm up the critical putts. Prior to each round, spend a significant amount of your warm-up time making the critical short putts. Start by building trust in your stroke with some straight putts from 3-6 feet. Once you build confidence in your stroke, start to move around the hole at those same distances making putts that break left, break right, are uphill and downhill. Finish this warm-up by going back to the three-foot long straight putt and try to make 10-15 in a row. By doing so, you will build confidence in your ability to make these critical putts that will surely make a difference in every match!
Have a game plan. Too many times golfers hit that first tee shot without a game plan for the day. This game plan could be focused on anything that you feel will help you win each hole, such as having a thought to "swing easy" throughout the day or committing to play your game and not trying to keep up with others. Better players always have a game plan of what they want to accomplish on that particular round. You cannot have too many items in your game plan, as you will tend to forget what they are. Keep them limited to one or two keys. I recommend trying to limit the amount of words it takes you to say it out loud. This ensures that your game plan is simple and concise.
BONUS TIP: Pretend the course is your match play opponent. Consider your handicap or average score and apply it to the course you're playing. If you are a "bogey golfer", then pretend that the "Course" has shot a bogey on each hole. Then, when you tee it up, play to beat that score. Consider this: if you miss a fairway and end up in the trees, you might normally try to still make par by attempting a heroic shot. (Trees are 90% air, right?) But, if a bogey can still salvage the hole, you'll start making the smarter play back into the fairway.
By approaching every round you play with a match-play mentality, you'll find that you start improving your overall score as well. You'll play to your strengths and recover from bad shots more quickly. Try playing your next few rounds with these tips in mind. You just might have to find a bigger wallet!
Join the Forum discussion on this post