Tip Provided By: Golftec of Maryland
Set Gapping—The Missing Piece
Doug Rikkers, GolfTEC Director of Club Fitting & Merchandise Services, PGA Member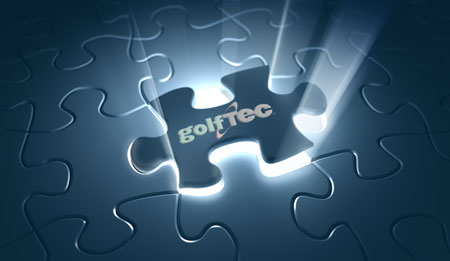 Are there certain yardages you just don't seem to have a club for? Do you have multiple clubs that go the same distance, or does one go too far relative to the next one in line? If so, you likely have gapping issues that are costing you strokes on the course.
One of the most overlooked elements of many fittings is what we call 'gapping'. Gapping refers to the yardage gap, or distance variation, you'll see from one club to the next. In a properly fit set, you should see eight to 12 yards in distance variation from one club to the next. If your set is not gapped properly for you, you'll likely have situations where you don't have the right club for the distance needed.
So how do you eliminate these gaps from your set? One of the first places to start is loft. Generally, you want three to five degrees of loft change from one club to the next to achieve the appropriate gapping distance throughout the set (players with very slow swing speeds might need more than five). We frequently see trouble with many of today's iron sets that are built with stronger lofts to increase distance. Building stronger lofts may help increase distance, but it also results in a pitching wedge loft of 44 or 45 degrees. If your next wedge is a typical sand wedge with 56 degrees, you end up with 10 degrees between the two clubs, and a significant yardage gap. To overcome this, manufacturers often offer a 'gap' wedge to fill that void, but they're not always included in the set, so many golfers unknowingly end up with a gap.
Another issue that can cause gaps is the shaft. Most hybrids come with graphite shafts that are lighter and longer than the steel shafted irons they're replacing. As a result, many players find that their first hybrid goes much farther than the longest iron in the set. For example, they may hit their 5-iron 165 yards, but their 4-hybrid goes 20+ yards farther. To overcome this, we recommend that your hybrids be the same length and loft as the iron you're replacing.
If you have doubts about the gaps within your set, here are a few suggestions:
Start tracking your distances (on the course or at the range)—if you're not already doing this, you can learn a lot from this exercise. You'll know how far each club goes and find out if you have any distance gaps.
If you have access to a launch monitor or shot simulator, spend some time determining how far you hit each club and identifying any significant yardage gaps.
Talk to your Certified Personal Coach. At GolfTEC, we have multiple ways of identifying and addressing your gapping concerns to ensure optimal performance. We can correct any gaps within your current set or make sure your new set doesn't create any.